KIA ORA & WELCOME TO DURHAM PRECINCT.
Come & Experience What Our Businesses Are Offering...

Your destination where the Waikato and Waipā Rivers meet. Book your cycle ride here too.
Durham Precinct provides a place to eat, rest, shop and spend time, with the Waikato and Waipā Rivers nearby and supporting activities at the Point Reserve and the Hākarimata Ranges. The Precinct is a link for cyclists, walkers, boaters, and visitors to the Ngāruawāhia retail and business hub. We are the Ngāruawāhia Depot for River Riders E-bike and cycle hire so book your trip with them here to get your FREE Coffee thrown in. You can enjoy some delicious food to fill your tummy for your ride or replenish it afterwards, so we are the place to begin or complete your cycle trip on Te Awa the Great New Zealand River Ride. You can also use the pedestrian linkages to the Ngāruawāhia town centre and businesses, and it is also only a short walk or cycle to many other local attractions.
A space of Fusion
Durham Precinct infuses our local histories (Māori and colonial) and Ngāruawāhia culture of manaakitanga, arts, collective well-being and people, with a modern mix of innovation that our town can offer within the Waikato, in New Zealand and share internationally.
Once home to a shoe factory, blacksmiths, butchers and traders, we are regrowing Durham Precinct into an environment that is vibrant in activity through design, accessibility and interactive spaces for:
Retail Trade
Professional Services (Technical, Real Estate, Financial, Health and Well-being etc)
Experiential/Tourism Services
Exceptional Food
Located at the heart of the local natural attractions
Durham Precinct is in close proximity to the Waikato River, the Waipā River and the Point reserve, as well as the renowned parliamentary house of the Kiingitanga, Tūrangawaewae House. The Precinct is easily accessible from Te Awa Cycleway along the Waikato River, as well as directly adjacent to both North and South bus stops and for commuters along Great South Road (ex State Highway 1) and on the main truck line for the developing commuter rail link. The Waikato River has been identified by Hamilton and Waikato Tourism as one of five key focus areas in their Tourism Opportunities Plan and will be branded over the next 10 years as the Mighty Waikato River.
Another feature in Ngāruawāhia is the Hākarimata ranges and its numerous enjoyable walkways. The Precinct is also on route to the most frequently used Hākarimata walkway (every Fitness Buff's favourite spot) on Brownlee Street. Close to 300,000 visitors [1] use this walkway annually, with many coming from Hamilton. The Precinct provides the ideal stopover space for visitors and locals alike to spend some time enjoying what Ngāruawāhia has to offer, great food, refreshments, entertainment and a spot of shopping (coming soon).

[1] According to Waikato Times report https://www.stuff.co.nz/waikato-times/101465750/Waikato-tourism-heading-to-new-heights
Get in quick to learn more about the remaining space available for lease.
A vibrant looking business space
Appeal and appearance is an important component in creating and maintaining a vibrant business space. Durham Precinct includes improved paving and planter boxes along the footpath/street edge of Durham Street and the road frontage will be maintained to a high standard. Also a pedestrian-cyclist friendly and shared space is envisioned, where it is hoped that over time, the link between the Point Reserve and Durham Precinct will be achieved through a cycle pathway between the two.

February 10, 2022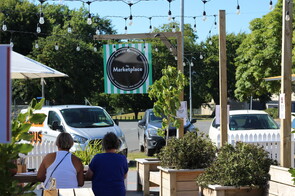 At the base of the Hākarimata Range, you'll find our beautiful riverside town. Surrounded by countryside and stunning natural scenery, Ngāruawāhia can sometimes be overlooked by visitors to Waikato. But although we're not as big as nearby Hamilton, we're bountiful in our own right – ...
read more
Our COVID-19 Update
These challenging times have meant adapting our business practices for the benefit of all so we can still enjoy a delicious, healthy meal, a little shopping and/or a service appointment whilst supporting our local small business owners. All of our businesses are diligently following the operation requirements as set by the Ministry of Health & the COVID-19 Protection Framework.